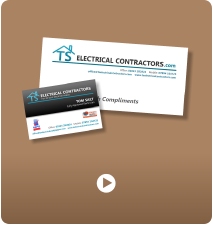 Exeter Stationery Design
High quality stationery can make a real difference to how professional your business looks to the outside world. As we make everything from scratch, we can work closely with you to achieve the style you are
looking for. Creative Monkey can produce any type of document, from business cards to letter heads, and even invoices. If necessary, we can also assist you in finding a printer. This service is also great to combine with our logo design service if you don't already have one.


I would recommend the company without hesitation!

Our Stationery Design Services

Business Cards
Business cards can be an extremely useful tool in business or in general, so it is important to get them right. We can work closely with you to come up with a design that suits you or your organisation. We can then create a card for everyone in your organisation, and can even source a printer for you.

Document Design
This can cover pretty much any document that needs branding. This could be a compliments slip, letter head or some sort of form. We can then either source somewhere to print them for you, or hand it over in a digital format so that you can easily use it in the documents you produce over and over again.

Invoice Design
This can either simply be the design of a form that will be printed for you to fill out by hand, a document for you to edit on the computer, or even a spreadsheet template so that all of the calculations are made instantly. Either way, we will come up with a design that suits you and then make it as easy as possible to use.